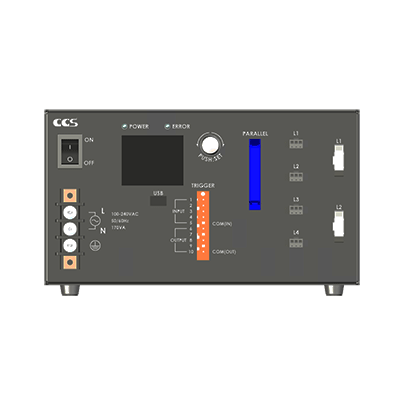 PD4 Series
Equipped with a full range of lighting control functions
Digital control unit PD4 Series designed for ease of use in manufacturing sites

Introducing a new standard model equipped with sequence control and
PLCCOM communication functions that responds to increasingly sophisticated FA environments
Features (1)
Features
Lighting output of 60 W / 120 W available
Number of channels: 2 channels / 4 channels
Ethernet / parallel external control
Parallel type supports both NPN and PNP connections
1,024 steps of precise intensity settings
All types have natural air cooling for easier installation
Utilizes color LCD for easy operation and display
Sequence
Turn lights on in desired pattern with sequence control function
Program up to 16 steps of ON input for a pattern of light emission.
For example, when using 4-quadrant bar lights or segmented lights to illuminate from multiple directions,
the emission patterns for each channel can be stored and switched ON / OFF by trigger input.

Difference in lighting operation depending on trigger operation mode setting values
Program a maximum of 16 steps of ON input.
Sequence operation can be performed with multiple steps per trigger or 1 step per trigger.
When the Set Value of the Trigger Operation : Mode Is 1-Trigger 1-Step Sequence Operation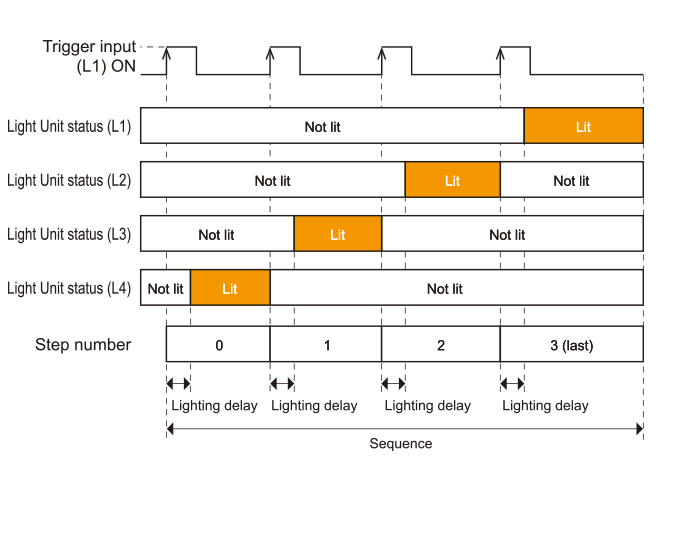 When the Set Value of the Trigger Operation : Mode Is 1-Trigger N-Steps Sequence Operation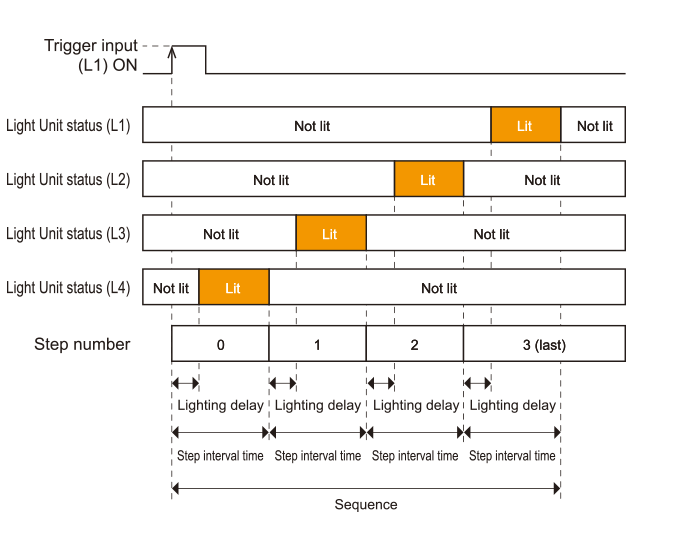 Sequence Control Application Examples
Imaging using photometric stereo method
The workpiece is illuminated and imaged in each direction.
It is possible to generate images that highlight only the unevenness or extract only the pattern by using the differences of each captured image.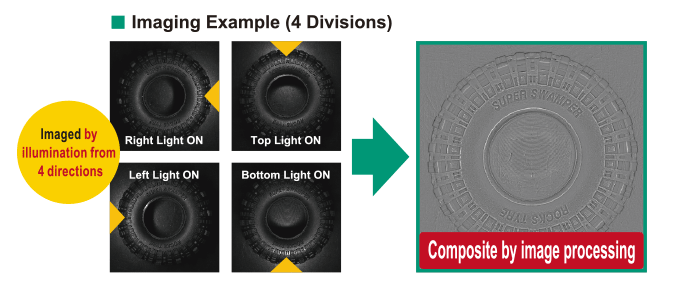 ---
For details, see "Sequence Control" on page 10 of the operation manual.
Features (2)
Trigger Output Mode
Trigger signal can be output from the control unit
Sends an output trigger signal to the camera so the timing of the light and camera can be synchronized.
Trigger Output Application Example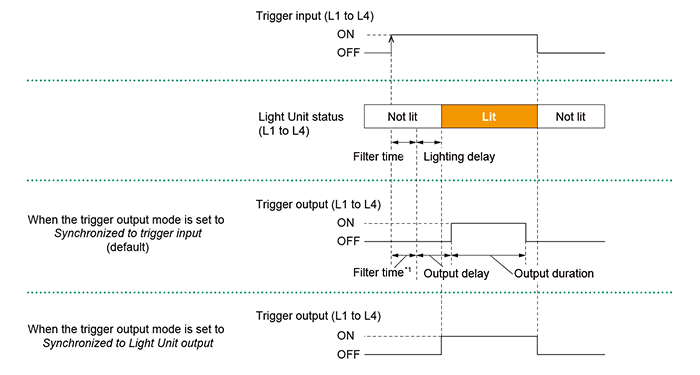 *1 Filter time can be set when noise is mixed in with the signal input from the trigger pin.
Recipes
Save lighting settings in a maximum of 8 recipes
Parameter settings such as intensity values for each channel and other inspection-specific parameter settings can be registered in advance, allowing for easy setting changes simply by recalling recipes.

Application
Application
(Patent Filed)
Easy to configure lighting parameters
Two versions: basic version and standard version.
Basic Version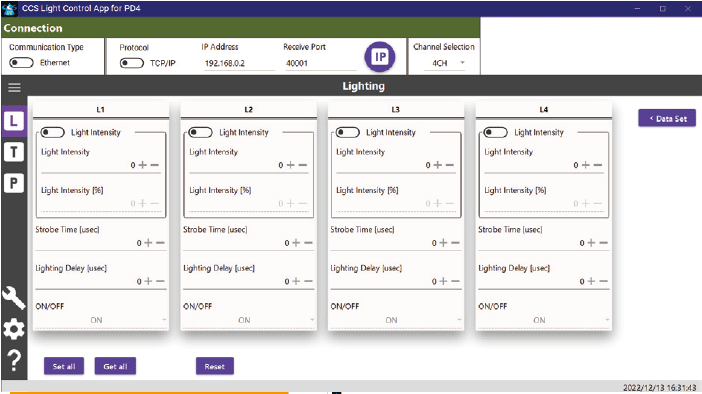 Basic lighting settings such as intensity value and light emission time, as well as trigger input / output settings.
Standard Version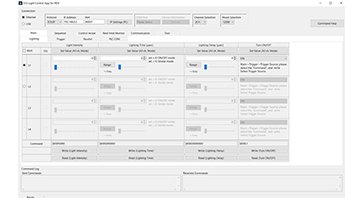 In addition to the functions of the basic version, all functions of the PD4 Series can be configured, including sequence control, real-time monitoring functions, etc.
---
System Requirements: Windows 10 / NET Framework 4.7.2
* The application can be downloaded from "Product Lineup"
* The standard version application is for the PD4 only
Real-Time Monitoring Function
Real-time monitoring of information such as lighting operation status, operation logs, etc.
Review lighting operation information for verifying lighting status during operation and for cause analysis when a problem occurs.

Communication function
PLCCOM Communication
Supports PLC link function for easy integration with PLCs
PLCCOM communication allows the product to be controlled by reading and writing memory areas on the PLC via Ethernet. Easy to install because there is no need to create a program specifically for the control unit.
Without PLCCOM Communication [For Conventional Control Units]
A program is needed to communicate with the control unit separately from the various lighting parameter settings.

With PLCCOM Communication [For PD4]
Can be connected via the PLC function, so there is no need to build a communication program.

PLCCOM Communication Specifications
For PLCs supporting MC protocol
For PLCs supporting FINS commands
• Device : Data register
• Protocol : MC protocol for MELSEC-Q series
• Frame : 3E frame
• Transmission code : Binary
• Transport : TCP or UDP

• I/O Memory : DM Area
• Protocol : FINS Commands
• Transmission code : Binary
• Transport : TCP or UDP
• FINS node address :
 For the TCP setting, specify the address that is automatically
 assigned by the PLC. For the UDP setting, specify the 4th octet
 of the IP address of the Control Unit.
 (Eg. When the IP address is 192.168.0.123, specify 123.)

---
For details, see "Overview of PLCCOM Communication" on page 33 of the operation manual.
USB Communication
Equipped with a USB connector to enable data communication with a PC while connected to external control devices
Various settings and operations can be verified via USB communication.
Use a USB cable with a ferrite core.
USB Connection Image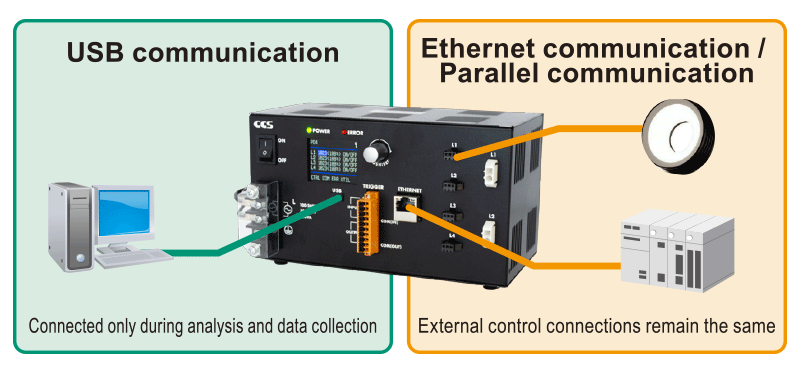 Options
Cable (Sold Separately)
Prong AC Power Cable with Ground Terminal (2 m, Intended for Use in Japan)
ACC-JIS-125-7-M4-2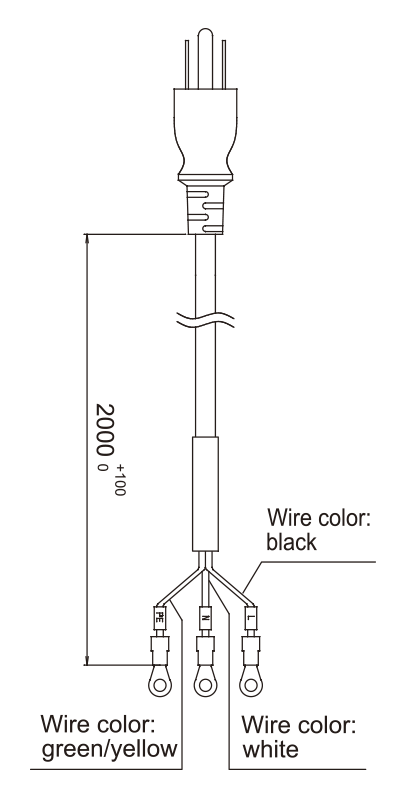 AC cord is for Japan domestic AC100-120V only.
Models without "-NC" at the end are included.
Example: PD4-6024-4-E-NC (this AC cable is not included)
PD4-6024-4-E (this AC cable is included)
Parallel Communication Cable
EXCB2-FX40-3
Parallel communication cable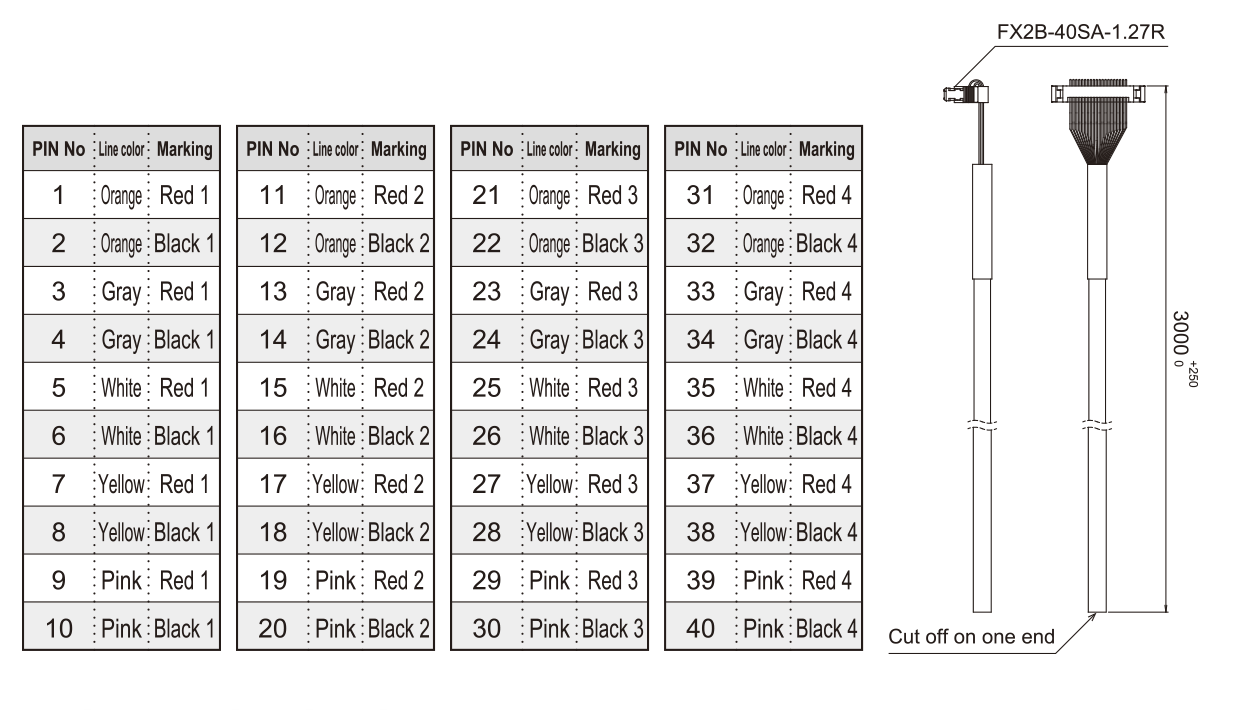 Power Adapter (Sold Separately)
Can be connected to the HLV3 Series by using a control unit adapter

Light and power adapter compatibility table (example)
Light Model Name
Emitting color
Power adapter model name (Custom order)
HLV3-14
RD
SW
BL
GR
-
Model name: RB-82-24-15SP 
(Quantity of light: 0.9X, Power consumption: 7.3W*1)
HLV3-22-1
HLV3-22-1C
RD
SW
BL
GR
-
Model name: RB-56-24 
(Quantity of light: 0.8X, Power consumption: 11W*1)
HLV3-22-2
HLV3-22-2C
RD
SW
BL
GR
-
Model name: RB-56-24 
(Quantity of light: 0.8X, Power consumption: 18W*1)
HLV3-22-4S
HLV3-22-4M
HLV3-22-4C
HLV3-22-NR-4
RD
SW
BL
GR
-
Model name: RB-56-24 
(Quantity of light: 0.7X, Power consumption: 25W*1)
HLV3-22IR860
-
-
-
-
IR
*1 Power consumption is the total value of the applicable light and power adapter.
Note) Quantity of light will be lower than when using the PJ Series control unit dedicated for spot lights.
Products
Machine Vision Applications

Ring

Square

Bar (Area)

Flat

Dome

Cylinder

Box

Spot

Line (Convergent Lighting)

Line (Diffused Lighting)

Line (Oblique Angled Lighting)

UV Lights [Ultraviolet Lighting] / Violet Light

IR Lights [Infrared Lighting] (under 1000nm)

Custom Order Product

Intensity Control Units [Light Units with Intensity Control Unit ]

OLED(CCS-LT)

Effilux Products

Basler Camera Light Series

IR Lights [Infrared Lighting] (over 1000nm)

Reference Light Source

Agri-Bio Lighting

LED Light Units for Plant Research

ISL-150X150 Series Unit

ISL-150X150 series cables

Human Vision Inspection and Microscope Applications

LED Light Units for Microscopes

Power Supplies

High Power Strobe Control Unit

Digital Control Units

Analog Control Units

Building Block Types

LED Light Controller

Control Units [for the HLV Series]

Strobe Unit

High-capacity Analog Control Unit

High-capacity Constant-current Control Units

Controller with EtherNet/IP Interface

PoE Enabled Controller

Control Units [for CCS AItec]

Cables

Extension Cable [for PF Series]

Straight Cables

2-way Cables [EL connector type]

4-way Cables

Robot Cables

Straight Cables [EL connector type]

2-way Cables [EL connector type]

Straight Cables for metal connector (7 pins)

Straight Cables for metal connector (37 pins)

Straight Cables for M12 connector

External Control Cables

Relay Connector

Options

Filters

Polarizing Plates

Diffusion Plates

Light Control Films

Adapter [for the CSR Series]

Lens Attachment Rings

Fixtures

Converter

Protective Plates

Coaxial Units

Fixtures

Reflection Plate

Condenser lens

Lenses

Telecentric Lenses

Macro Lenses